Private 5G in no time using the small cell 5G-SA Starter-Kit suitcase
CampusGenius Platform for private 5G
The 5G-GeniusNetwork family for full integration and as transportable container.

CampusGenius implements private 5G campus networks for SMEs and industry and supports integration in production processes, automation or in the connection of automated vehicles and extensive sensor technology.
This provides a future-proof communication platform for the digitalization of corporate processes. The 5G-SA campus networks are scaled, installed and supported by CampusGenius in cooperation with the customer.
A dedicated 5G campus network enables fast, reliable data transmission for thousands of devices with a high data rate, low latency and unique reliability – the customer retains its data sovereignty and benefits from a significant increase in security through its own frequency ranges.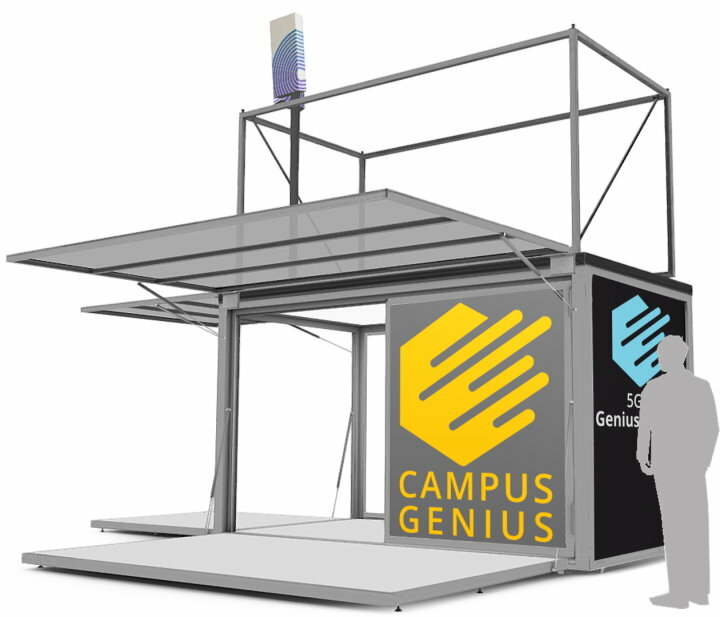 Computational Power
A scalable edge cloud or own bare-metal system can be operated directly in the air-conditioned container. This means that the necessary cloud resources are available to the applications directly on site.
Campus network
With the GeniusNetwork, the user has his own dedicated 5G network at his full disposal. Extensions, coverage of large areas, or the relocation of the system on migrating construction sites is possible without any problems.
5G performance
The power of 5G wireless technology provides the highest bandwidths, lowest latencies and unlimited number of devices connected simultaneously.The 5G GeniusCore allows complete control over campus network communications.
Security by design
5G campus networks are fundamentally secure and reliable; nevertheless, new security standards are implemented immediately. CampusGenius is actively involved in research on security in telecommunications networks.
Transportable system
The GeniusNetwork in a container can provide any coverage on site and additionally edge cloud services. All that is required is a power supply.
Let's talk.
Unparalleled possibilities.Schedule a call to learn all about our full private 5G network in a suitcase. Start testing 5G private networking at your company today.